Nobel Laureate Mo Yan 莫言 and Professor Sir Jonathan Bate in Conversation
Date: 8th Jun 2018
Time: 5:00 pm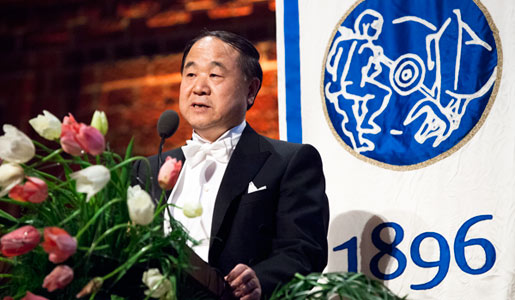 Join Professor Bate in conversation with Dr Mo Yan about story-telling in literature for global audiences, followed by open Q&A. The event will be of interest to anyone working on world literature, art and cultural studies and intercultural communication.  Tickets are free but registrations is required.
Speaker Biographies
Dr. Mo Yan, a renowned contemporary Chinese writer, is currently the Dean of the Literature Institute of the Chinese National Academy of Arts. He is the first Chinese national to receive the Nobel Prize in Literature in 2012. Born in 1956 into a peasant family in Shandong Province, China, he left school at the age of 11. In 1976, he joined the army and has assumed a teaching role. He also started writing where his literary talent was first discovered. He left the army to work in Procuratorial Daily in 1997.
The release of Red Sorghum (1987) launched his career as a nationally recognised novelist. Dr. Mo Yan's major works include The Garlic Ballads (1988); The Republic of Wine: A Novel (1993); Big Breasts and Wide Hips (1995); Sandalwood Death (2001); Pow (2003); Life and Death are Wearing Me Out (2006) and Frog (2009). His works have been translated into over 40 languages, including English, German, French, Italian, Spanish, Dutch, Japanese and Korean etc.
Mo Yan is the recipient of numerous awards including Ordre des Arts et des Lettres (the French Arts and Literature Knight Medal), Italy's Nonino Prize, the Fukuoka Asian Culture Prize of Japan, the Newman Prize for Chinese Literature, the Mao Dun Literature Prize and Korea's Manhae Literary Prize. He is a fellow of the Bavarian Academy of Fine Arts and an honorary member of the Modern Language Association of America.
Professor Jonathan Bate is Provost of Worcester College and Professor of English Literature in the University of Oxford. He is a Fellow of the British Academy, a Governor of the Royal Shakespeare Company, broadcasts regularly for the BBC, and has held visiting posts at Yale and UCLA. He has been awarded a CBE for his services to higher education and a knighthood for services to literary scholarship.
His many publications include Shakespeare and Ovid, The Genius of Shakespeare, Soul of the Age: A Biography of the Mind of William Shakespeare, and award-winning biographies of the poets John Clare and Ted Hughes. With Eric Rasmussen, he edited The RSC Shakespeare: Complete Works. He was consultant curator for Staging the World, the British Museum's major Shakespeare exhibition for the London 2012 Cultural Olympiad; Being Shakespeare, his one-man play for Simon Callow, toured nationally and played at the Edinburgh Festival Fringe prior to three runs in London's West End and a transfer to New York and Chicago.