The Regent's Park College library service consists of three libraries, each with its own distinct focus.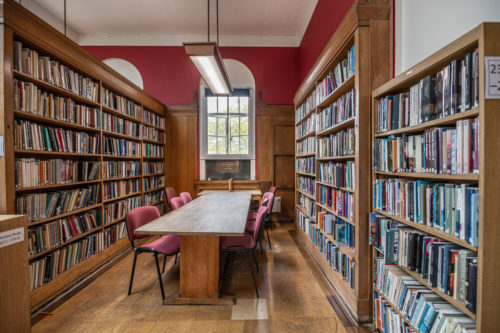 College library
The college library is the main library used by students and faculty at Regent's, and it is available 24 hours a day.
The collection of more than 30,000 books reflects the humanities and social sciences focus of the college.
For further information about using the library and finding resources for your essays or research, please visit the Regent's Park library LibGuide. There is also this booklet for college members.
The Angus Library and Archive
The Angus Library and Archive is the leading world-class collection for the study of Baptist and nonconformist history and heritage.
The Angus collection comprises over 70,000, printed works, manuscripts, minute books and artefacts from the late fifteenth century onwards.
Baptist and nonconformist history are among the many subjects people research in the Angus, with people also studying slavery, human rights, women's rights, missionary work, geography and linguistics to name a few.
The Angus Library and Archive also has its own website.
David Nicholls Memorial Collection
The David Nicholls Memorial Collection, based on the private collection of Britain's foremost Haiti expert, comprises some 4,000 volumes. The majority of the texts deal specifically with Haiti, the Dominican Republic and other Caribbean societies, in addition to David's collection of theological, sociological and political works.
The library collections are catalogued and searchable using SOLO, the university library catalogue.