Conference & Portrait for Professor Pamela Sue Anderson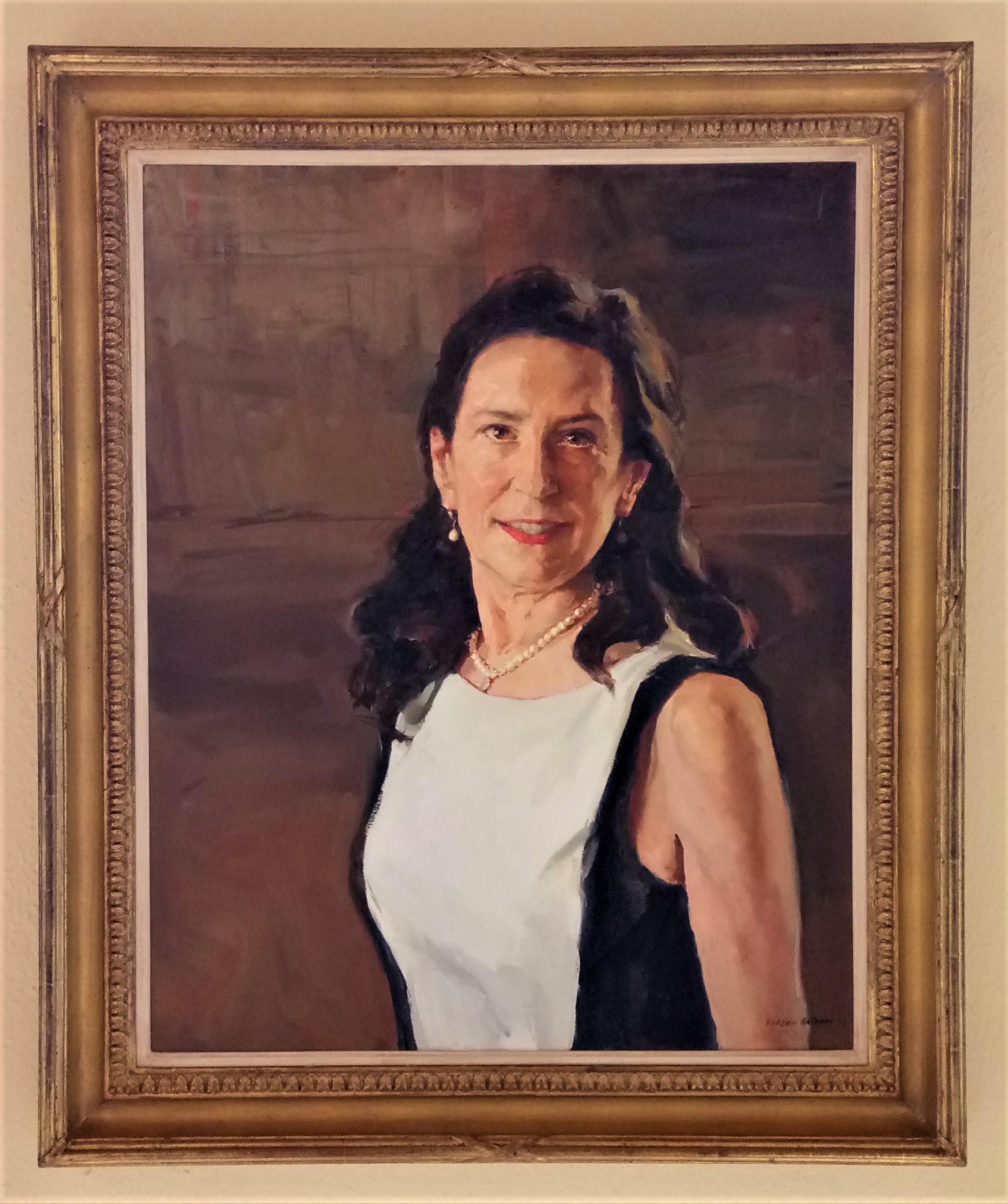 Almost exactly a year following the death of our much-loved tutor and colleague, Professor Pamela Sue Anderson (1955-2017), a three-day conference, including the unveiling of a portrait of Pamela, has been held to celebrate her later work on the themes of love and vulnerability.  At the time of her death, Pamela was Professor of Modern European Philosophy of Religion at the University of Oxford, and Fellow in Philosophy at Regent's Park College, and she had recently embarked upon a study of vulnerability as part of the Templeton-funded 'Enhancing Life Project', coordinated by the University of Chicago.
Love & Vulnerability, 16-18 March 2018
The conference in memory of Pamela took place at Mansfield and Regent's Park Colleges, and one of the organisers, Dr Nick Bunnin, has provided this report:
"As a philosopher, Pamela embraced a unity of our precarious identity of becoming and our vulnerability to violence as grounding the need for and liberating possibility of affection and intimacy through love of others, love by others and self-love.  As a feminist, Pamela was especially engaged with the vulnerability of women, but extended her framework to comprehend and seek remedies for the plight of others excluded, harmed, diminished, ignored or silenced on grounds of race, class or sexuality.  Her thinking about religion is stunningly exemplified by two acclaimed and pioneering works, A Feminist Philosophy of Religion: The Rationality and Myths of Religious Belief and Re-visioning Gender in Philosophy of Religion: Reason, Love and Epistemic Locatedness, but was also generously expressed in the flow of lively and delightfully intelligent papers, chapters, talks, dialogues and conversations.
At the conference, twenty-five invited speakers responded to Pamela's explorations of human identity as gendered, embodied, physically and emotionally vulnerable selves, capable of self-reflection, openness to change and creative transformation in varying arrays of social circumstances.  Speakers, including Pamela's sister, doctoral supervisor, friends, colleagues and students, drew on their individual conversations with her, reflecting the development of her thinking from themes in her earlier writings, its sources in her engagement with Kant, Wittgenstein and the French philosophers, Henri Bergson, Paul Ricoeur, Simone de Beauvoir, Emmanuel Lévinas and Michèle Le Doeuff, and its application to circumstances beyond those she herself discussed.  The complex portrait of Pamela's passionate commitment to making sense of what it is to be human emerging from the conference will be shared through publication in a special issue of Angelaki: Journal of the Theoretical Humanities."
A New Portrait
On the second day of the conference, Saturday 17 March, participants and other guests, including many of Pamela's former students from Regent's Park, gathered for the unveiling of her portrait.  The decision to commission a portrait was made in 2014, to celebrate Pamela's professorial appointment by the University, but a lengthy process meant that when the time came for her sittings, she was too unwell.  The portrait which now hangs in Helwys Hall at Regent's Park, is based on a photograph selected by Pamela herself, reproduced in oils by an artist chosen by her family, the Russian-born Valeriy Gridnev.  At the unveiling, short tributes were paid by Pamela's sister, Heidi, the Principal who employed Pamela, Professor Paul Fiddes, and the current Principal, Dr Robert Ellis.  With the kind permission of Pamela's family, we are pleased to be able to share a video of the unveiling:
Full list of conference speakers: Adrian Moore, Beverley Clack, Alison Assiter, Carla Bagnoli, Roxana Baisu, Andrea Bieler, Paula Boddington, Nicholas Bunnin, Kristine A. Culp, Susan Durber, Paul Fiddes, Dorota Filipczak, Elizabeth Frazer, Kimberly Hutchings, Alison Jasper, Morny Joy, Sabina Lovibond, Mao Xin, Alan Montefiore, Stephen Mulhall, Laurie Anderson Sathe, Heike Springhart, Chon Tejedor, Günter Thomas, Heather Walton.