Tutors Nominated for OxfordSU Awards 2018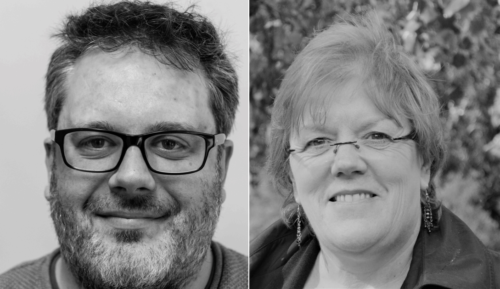 Congratulations to Dr Leif Dixon (Supernumerary Fellow in History) and Dr Lynn Robson (Supernumerary Fellow in English) who have been nominated for student-led OxfordSU awards.  A string of recent accolades attests to the commitment of these two academics, shared by colleagues throughout the College, to excellence in teaching and learning, as well as creating an environment which is both supportive and academically stretching, where all students, regardless of background, have the best possible chance to thrive.
Dr Robson, who has already received OxfordSU awards for Most Acclaimed Lecturer in the Humanities (2013) and Outstanding Pastoral Support (2016), as well an Oxford University Teaching Excellence Award (2015), has been nominated for the award of Most Acclaimed Lecturer 2018.  Dr Dixon, who was voted Outstanding Tutor in the Humanities (2016), has been nominated for the same award this year.
He has commented: "It is a real honour to be nominated, but above all it's a privilege to be able to work with such an able and dedicated cohort of historians at Regent's Park.  It is easy for me to engage constructively and enthusiastically with my students' essays when they themselves show so much commitment for and passion toward the study of History."
Good luck to both Drs Dixon and Robson at the Awards Ceremony in 3rd Week!