Book of essays published in honour of Fellow and Chaplain Myra Blyth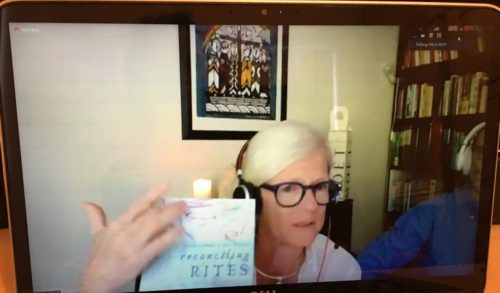 Sadly, this summer the College is saying goodbye to Myra Blyth as Fellow and Chaplain after sixteen years working at the College. Myra contributed hugely to the life of the College, to the welfare provision for all students and staff, to the work of the Chapel and with those preparing for ministry. She will be very much missed by students and staff in her various roles.
Myra led her last chapel service on Friday 19 June showing the new skills she had learnt during the term to enable her to lead worship on Zoom with such creativity and flare. After chapel there was a time to pay specific tributes to Myra and a whole range of people spoke of the impact and significance Myra had had for them.
Myra was also surprised by a group of friends who had spent the previous 18 months preparing a book of essays in her honour managing to keep it secret. Having surreptitiously sent a copy to Robert, Myra's husband, she was able to open it on Zoom and was one moment when she seemed lost for words. The book is called Reconciling Rites and the essays explore different aspects of liturgy, ecumenism and restorative justice. More information on the book can be found here: https://www.amazon.co.uk/Reconciling-Rites-Essays-Honour-Blyth/dp/B0892658FV