Director of Oxford Centre for Religion and Culture awarded prestigious Lambeth Award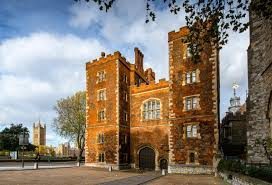 Anthony Reddie, Director of the Oxford Centre for Religion and Culture at Regent's Park College, has been honoured in the Archbishop of Canterbury's Lambeth Awards, which recognise outstanding contributions to the church and wider society. Dr Reddie was awarded the Lanfranc Award for Education and Scholarship for his exceptional and sustained contribution to Black Theology in Britain and beyond. He was recognised as an established and committed scholar in the field of Black Liberation Theology, who has dedicated his life to research, teaching, and in depth scholarship in the United Kingdom and around the world; as well as his unwavering in his commitment to ecumenism, something reflected in the nature of his work and in his own personal ecclesiology.
Archbishop Justin Welby said: "This is the fifth year of the Lambeth Awards, and I am constantly impressed and humbled by the work that recipients have accomplished, sometimes in the most challenging circumstances. Not all are followers of Jesus Christ, but all contribute through their faith to the mutual respect and maintenance of human dignity which are so vital to spiritual and social health."
Dr Reddie has recently featured on the Nomad Podcast discussing Black Lives Matter and the murder of George Floyd, and at the recent Greenbelt event hosted by Chine McDonald, Black Lives Matter, is the church complicit?