JALA Group Signing Ceremony
On Friday 15 February, the Principal received Ms Xiaodan Zheng, representative of the JALA Group.
JALA was founded in Shanghai in 2001 and is the largest domestic cosmetics company in China. Ms Zheng sits on the Board of Directors and is Senior Director of JALA's Foreign Affairs.
This collaboration will help fund a range of academic programmes at Regent's Park – and it marks the continuation of historical links between the College and China, which go back for over a century. To help us bring the past and present together, photos from the Angus Library's collections were on display during the signing and afterwards, at Formal Hall, both parties shared their hopes for a future of ongoing cooperation.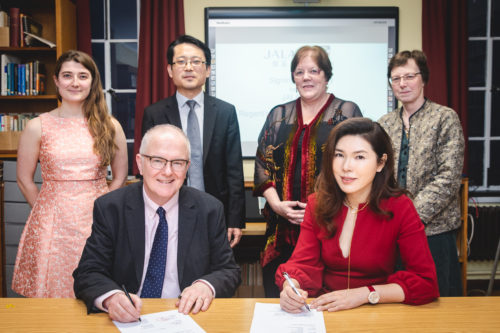 Front Row (left to right): Ms Xiaodan Zheng and the Principal, Dr Robert Ellis.
Back (left to right): Ms Fiona Floate, Dr Lynn Robson, Dr Shidong Wang and Ms Christabel Chittick.
During the meeting, gifts were exchanged – including miracle products from the JALA brand, some of which were inspired by products used in outer space.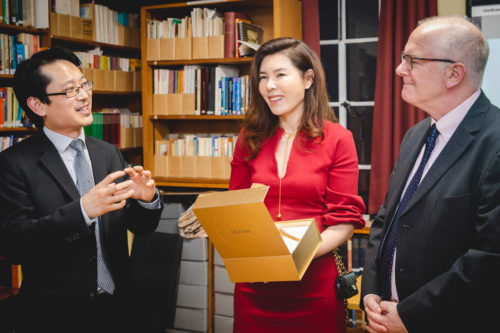 Left to right: Dr Robert Ellis, Ms Xiaodan Zheng and Dr Shidong Wang.