Wes Pue, RIP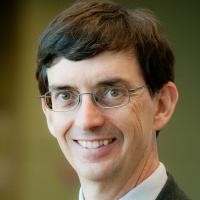 Wes Pue, who died in his native Canada on 3 April 2019, aged 64, had a long association with Regent's Park, as both student and alumnus.
Arriving in 1974 from Gresham's School in Norfolk to read Geography, for which he received a First, he went on to complete a second first degree in Jurisprudence in 1979, taking advantage of the Oxford system whereby one can proceed to the Final Honours School in two years.
He was well involved in the wider life of the College, principally through rowing, creating, as Captain of Boats, a culture that laid the foundations for future success on the river. A typical afternoon outing would consist of a four-mile run to and from the Boathouse, the river session, and an obligatory 45 minute weights workout on return; all based on the principle that if you wished to enjoy a sport to the full then you had to do the proper training for it. Social events, aimed at raising money for the Boat Club, included a sponsored row down the Thames from Oxford to London and, in a later year, a repeat journey via road from Regent's Park to Regent's Park. He was cheerful and determined, but always a good manager of people. Many members of College who knew him in these years, and who may have had little association with organised sport until discovering the joys of rowing under his captaincy, have much for which to be grateful.
Returning to Canada in 1979 he then completed an LLM at the University of Alberta, followed by a year working towards his bar exams in Yellowknife in the Northwest Territories. He once told the amusing story of driving 1,000 miles from Alberta to take up this post, without seeing much, if any, sign of civilisation until, arriving in Yellowknife, he was first greeted by the oversized barrel of the city's branch of Colonel Sanders! Doctoral studies at Osgood Hall Law School in Toronto followed in 1981 and, graduating Juris Doctor in 1989, began in earnest the academic career in law that was to occupy him for the remainder of his professional life, in succession proceeding to posts at Oklahoma City University, Carleton University in Ottowa, The University of Manitoba and finally, in 1993, becoming the first holder of the Nathan T. Nemetz Chair in Legal History at the University of British Columbia. He was to remain at UBC until his death, serving not only as Professor but also the wider University as Principal of its Okanagan campus (2011-13) and later as Vice-Provost and Associate Vice-President of Academic Resources.
Wes wrote extensively in the area of Canadian and English legal history, the history of the legal profession, law and society and law and geography, maintaining a life-long interest in the academic subject that had first brought him to Oxford. This was exemplified by his fifth and final book, published to international acclaim during his illness and entitled Lawyers' Empire, in which he explored the social roles lawyers imagined for themselves in England and its expanding empire from the late eighteenth century to the mid-twentieth century. Not least amongst his many achievements was the establishment of the UBC Law and Society book series, growing to beyond a hundred titles at the present time, as well as serving eventually as President of the Canadian Law and Society Association. An opportunity to renew his association with Regent's Park came about through his use of the significant resources of the Angus Library for research in this important area of legal development.
That he was a remarkable academic is beyond doubt. But for those who remember Wes, both from Oxford days and beyond, there are many who have good cause to be grateful for his unstinting friendship and unstated generosity of heart. His natural kindness to all around him could be easily missed because it came with a natural modesty, and it was only after the event that one understood how much he had given in such unassuming ways. He faced his cancer diagnosis with the kind of courage that marked so many of his dealings, never thinking of it as a battle that had to be fought so much as another stage in life's journey. There were many twists and turns over the four years of his illness, and we can be grateful that 2018 was such a good year for him and Joanne, his wife; well enough to travel further afield in Canada, to Mexico on academic business and to Sweden to visit his daughter Heather.
The turn of this year came with the news that he only had a few months to live, but even here he reacted with characteristic courage. We mourn deeply his loss as friend and scholar, and send our most heartfelt condolences to Joanne (whom he met at Osgoode Hall) and their daughters, Heather and Colleen.