We have 80 bedrooms on our central Oxford site. We offer both single study bedrooms with shared bathroom facilities, and one- to five-bed flats with self-catering facilities.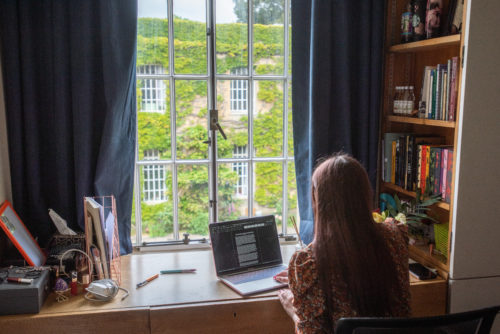 Our facilities
Outside of term, we take bookings for our student rooms, offering the opportunity for visitors to find centrally located, basic, non-ensuite accommodation at affordable rates.
We have wireless internet in all areas of the College, and visitors are welcome to make the most of our communal facilities, including our quadrangle, student common room, and shared laundry. During the summer months, you can also meet Emmanuelle, our tortoise and oldest College member.
Short-term stays
Whether you're in Oxford visiting family or friends, or coming to see the City's historic sights, our accommodation provides an ideal base for your stay. We are located only two minutes' walk from the Ashmolean Museum and are just around the corner from the historic Eagle and Child pub. All of the main tourist attractions are within walking distance, and our staff are happy to point out places of interest when you visit.
Group visits
Our small size makes us ideal for group stays, and we regularly welcome guests from touring groups, church groups, or summer school programmes.
Self-catered flats
We have a number of self-contained flats on our main site, the majority of which are two- and three-bedroom. All of our flats have their own kitchen and bathroom – making them perfect for an affordable, self-catered stay for small groups in the heart of Oxford.